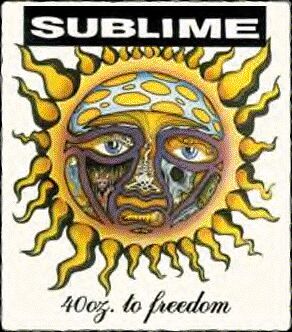 Description:

Sublime: Brad Nowell (vocals, guitar, percussion, samples, bass, congas); Eric Wilson (bass, organ, percussion, vocals, congas); Bud (drums, samples).

Additional personnel includes: Adam (vocals, congas); Miguel (samples, guitar, vocals, piano, organ, sound effects).

Recorded at Mambo, Long Beach, California. Originally released on Skunk (001).

The sound is a blistering blend of ska, reggae, and '80s West Coast thrash a la Black Flag, with a healthy dose of spoken-word and rub-a-dub dancehall thrown in for good measure. This magnificent debut was required listening on the Southern California skateboard circuit. Fans of any of the aforementioned musical styles are likely to get a kick out of hearing singer Brad Nowell rollick through songs like "Smoke Two Joints." The attack is a pure assault of youthful energy, almost over-the-top, but controlled, always reigned in by the rhythm, which rules. Samples abound, as Sublime pays tribute to its musical idols in true '90s fashion: by including chunks of their songs. Even the Grateful Dead gets a nod.





Waiting For My Ruca (Sublime)
40oz. To Freedom (Sublime)
Smoke Two Joints (Kay / Kay)
We're Only Gonna Die For Our Arrogance (Graffin)
Don't Push (Sublime)
5446 That's My Number / Ball And Chain (Hibbert)
Bad Fish (Sublime)
Lets Go Get Stoned (Sublime)
New Thrash (Sublime)
Scarlet Begonias (Garcia / Hunter)
Live At E's (Sublime)
D.J.s (Sublime)
Chica Me Tipo (Sublime)
Right Back (Sublime)
What Happened (Sublime)
New Song (Sublime)
Ebin (Sublime)
Date Rape (Sublime)
Hope (Augerman)
Krs-One (Sublime)
Thanx Dub