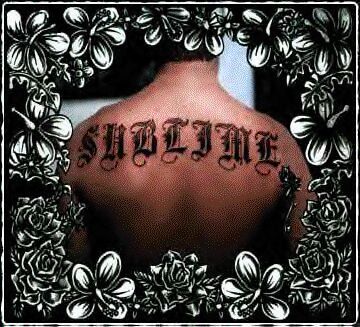 Description:

Rolling Stone (5/13/99, p.63) - Included in Rolling Stone's "Essential Recordings of the 90's."

Spin (9/99, p.144) - Ranked #48 in Spin Magazine's "90 Greatest Albums of the '90s."

Spin (1/97, p.58) - Ranked #8 on Spin's list of the "20 Best Albums of '96."

Village Voice (2/25/97) - Ranked #34 in the Village Voice's 1996 Pazz & Jop Critics' Poll.

Rolling Stone (12/26/96, p.186) - "...bright, wired bounce and the shell-game shuffle of funk beats, snappy Jamaican rhythms and mosh-pit, shout-it-out choruses in Nowell's writing--that's the stuff of a band with great promise and the confidence to make good on it..."

Spin (12/96, p.147) - "...the consistency of SUBLIME...and the home demo `Robbin' The Hood'--is a singer/songwriter's triumph. Yet what makes Sublime such a gift to bland ol' modern rock is Nowell's irreducible personality, lunging after excesses he could see through but never resist..."

Entertainment Weekly (8/16/96, p.62) - "The recent overdose death of...Brad Nowell makes this both the first and last major-label release from SoCal fusion punks Sublime. It's a respectable testament--an unusual blend of ska rhythms, dub, and hardcore guitar rock, tinged with the occasional eerie hip-hop sample..." - Rating: B

RIP (10/96, p.70) - 3 (out of 5) - "...A trippy, funky, fun mix of punk, ska, rap, reggae and any number of other influences....SUBLIME is a mainly lackadaisical, relaxed, summertime-feel kind of disc..."

Description: Sublime: Bradley Nowell (vocals, guitar, Hammond B-3 organ, synthesizer); Eric Wilson (acoustic & electric basses, synthesizer); Bud (drums).

Additional personnel: Miguel (acoustic guitar, sound effects); Paul Leary (slide & electric guitars); Todd Foreman (saxophone); Jon Blondell (trombone); David Kahne (piano, organ); Field Marshall (percussion, programming, DJ); Dave Aron (programming).

Producers: Paul Leary, David Kahne, Brad Nowell, Miguel.

Recorded at Pedernales Studios, Briarcliff, Texas and Total Access Studios, Redondo Beach, California.

The popularity of ska bands like No Doubt and Goldfinger paved the way for what seemed to be inevitable success for Sublime. But lead singer Brad Nowell died of a heroin overdose in May 1996, two months before this major-label debut was released. SUBLIME reveals a talented act whose songs were a brilliant mix of punk, reggae, hip-hop and dub. Sublime's ability to jump genres is showcased within a few bars of "What I Got." Amidst whistling, scratching and a rhythm copped from the Beatles' "Lady Madonna," Nowell's vocals glide from spoken-word to a toasting vibe. Pop culture also provided a handy source, particularly in "Caress Me Down," where porn star Ron Jeremy and G.I. Joe are mentioned amid reggae rhythms and Spanish lyrics.

Although many of these songs have a fun, carefree aura, Sublime's darker side occasionally surfaces. The black humor of "April 29, 1992 (Miami)," which boasts of looting during the L.A. riots, gives way to the eerie foreshadowing of "Garden Grove," where in the middle of quirky samples and heavy reverb, Nowell casually sings of shooting up.





Garden Grove
What I Got
Wrong Way
Same in the End
April 29, 1992 (Miami)
Santeria
Seed
Jailhouse
Pawn Shop
Paddle Out
The Ballad of Johnny Butt
Burritos
Under My Voodoo
Get Ready
Caress Me Down
What I Got (Reprise)
Doin' Time